Contact
EMERGENCIES DIAL 911
For all other Non-Emergencies - 219-766-2332
Police History
"To Protect and Serve: Small Town Policing"
Since the 1880s, Kouts has had a number of Constables and Town Marshalls. The town of Kouts was incorporated in 1921. The first Town Marshall was Dan Doon. The first jail (photo under Photos from the past) was built in 1923 and cost $360.
Mike Cairns

Jim Smith 2013 to 2023
James Boyce 2008 to 2013
Joe Kirk - 1994 to 2008
Joe Olejniczak - 1994
Edward Blakely - 1983
Don Sutter - 1980 to 1983
Randy Walden -
Leland "Bing" Jamecke - 1956 to 1977
Charles Mason -
Ewalt Jahnz - 1935 to 1943
William Shultz -
Joe Shephard -

Homer Stewart -
Simeon Rice -
Grand Shoup -
Herman Chael -
Walter Jackson -
Barney Mawell -
August Vergin -
Luther Wise -
Herman Kosanke -
Charlie Lane -
Ottol Knoll -
Dan Doon - 1880
OUR GOAL
Our goal with this page is to provide you with a little bit of history, of the Kouts Police Department, starting with the roots of the department, and working our way up. It will take time to gather information, as there is not much currently available. As we receive information and photos, we will post it on this page.
Please check back soon, and see what new information of the KPD heritage, we have located.
Command And Memorials
Officer Robert "Bob" Thornberry
Kouts #4
EOW 3/17/10
In memoriam of our friend and co-worker, Officer Robert "Bob" Thornberry.
48 years young - a wonderful officer and faithful friend.
To honor him, we have retired the call sign of Kouts #4 permanently.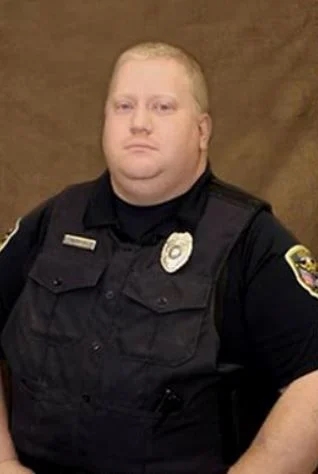 Officer Nicholas W. Deal
Kouts #8
EOW February 12, 2019
​In memoriam of our friend and co-worker, Officer Nicholas "Nicky" Deal, 31 years young – an attentive officer and true friend.
To honor him, we have retired the call sign of Kouts #8 permanently.
Our department has set up "The Nicholas Deal Memorial Scholarship," with contributions coming from the department, Nicky's mother Katie Payne and other gratuitous contributions from people.
This scholarship is annually awarded to a Kouts High School senior who plans to attend college and pursue a career in law enforcement or criminal justice.
We are continuing to add to this fund to allow for larger scholarships for this purpose.
If you wish to contribute, please forward your gift to the Kouts Police Department – Nick Deal scholarship at P.O. box 505 Kouts Indiana 46347, or drop it off at the Kouts Police Department at 210 South Main Street in Kouts.
Patrol
The Kouts Police Department has 6 full-time police officers on staff. Each officer is academy-certified. Our officers work day shifts, afternoon shifts, and midnight shifts.
If you have any questions, feel free to approach our officers while they are patrolling your subdivision, at the store, or even at the gas station.
We pride ourselves in providing courteous service, diligence in duty, and a safe environment for families and visitors.
The Kouts Police Department has part-time police officers on staff. Part-time officers are academy graduates with the majority of them working full-time at other police departments. This, in turn, benefits our department by expanding the experiences from other departments to our own.
The Kouts Police Department has reserve officers on staff. These volunteers contribute their time and energy in assisting with all types of police matters within the Town of Kouts.
We are currently accepting applications. Below are the requirements for Reserve Officer's future consideration.
The minimum requirements to be a Reserve Officer are:
You must be 21 years of age or older to apply.
You must possess a valid driver's license.
You must provide your own equipment.
You must pass a rigorous background check.
You must be able to pass our standard agility test.
You must successfully complete the ILEA 40-Hour Pre-Basic Course (this includes firearms qualifications and defensive tactics physical training).
You must not have any felony convictions or convictions for domestic violence.
You must be of good moral character.
You must be a U.S. citizen of good standing.
You must be able to be flexible in working different shifts. Preference to those that can work Monday through Friday days.
You must be in good physical condition to perform duties such as foot pursuits and prepared for the risk of dangerous situations occurring.
Preference will be given to police academy graduates and pre-basic certified officers.
Links
How do I obtain a vehicle identification number (VIN) check for my vehicle?
OR a hull identification number (HIN) check for my boat?
The most common reasons the BMV requires an identification number check on your vehicle include:
You purchased a vehicle with an out-of-state title.
You moved to Indiana from out of state.
You purchased a trailer without a VIN number.
You built a new trailer, and/or
You have an error in your title.
For a VIN check please call 219-766-2332. If you live within the Town of Kouts, we will come to your residence to complete the VIN check. If you live outside of Kouts, you may be required to bring the vehicle to the Police Department to complete the check.
There is a $5 cash fee for a VIN check, which will be collected at the time of the inspection. A receipt will be issued.